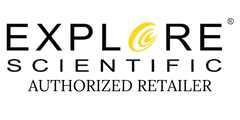 Explore Scientific Field Flattener f/5 to f/7
Explore Scientific Field Flattener f/5 to f/7 is backordered and will ship as soon as it is back in stock.
Out of stock
Sign up to be the first to know when this product becomes available
---
Explore Scientific Field Flattener f/5 to f/7
Features
Corrects Coma Aberration for Photography
This is a field flattener for refractor-type telescopes with a focal ratio of f/5 to f/7
Causes no change to the telescope focal length
2-inch barrel to easily attach to a two-inch focuser
Fully multi-coated optics
T-ring thread on the device so a T-ring can be used to easily attach a DSLR camera or a dedicated astrocamera
38 mm of clear aperture
Requires 55mm (+/-2) of back focus/spacing between the device and the camera sensor
Premium high glossy anodizing finish
When doing astrophotography with refractor-type telescopes, the faster the focal ratio the more field curvature becomes a problem. Field curvature will appear in the corners of astrophotographs, making the stars smear perpendicular to the axis of the image. This is called coma -- coma is Latin for comet, because the stars look like comets. The more the curvature, the closer to the center the coma appears. The larger the sensor, the worse the coma.

Astrophotographers can easily correct the coma by using a field flattener – an optical device that goes between the telescope and the camera. Field fatteners are not interchangeable, because these devices are designed to work with a small range of focal ratios.

The Explore Scientific field flattener is designed to work with telescopes with focal ratios between f/5 and f/7. Our device requires 55 mm (+/-2 mm) of spacing between the back of the device and the camera sensor.

NOTE: This device is for photographic use only. It is NOT intended for visual use.
Compatibility

Item Number

Optics

Barrel Size

Warranty
Payment & Security
Payment methods
Your payment information is processed securely encrypted during transmission. We do not store credit card details nor have access to your credit card information.
Before you go...
Here's a discount code to take $10 off any order over $250.
Code expires soon.
Ends September 27, 2023 at 7:59 pm