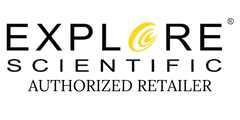 Sun Catcher Variable Large Aperture Solar Filter
Sun Catcher Variable Large Aperture Solar Filter - 70mm / 80mm FirstLight Refractors is backordered and will ship as soon as it is back in stock.
NOTE: 7"-12" diameter filter will NOT fit on 10-inch and 12-inch truss-tube Dobsonian telescopes.
Sun Catcher Variable Large Aperture Solar Filter
Features
100% Safe for Eclipse Viewing
Lightweight and generally does not require rebalancing tube assembly.
Stronger than any other solar filter film on the market. It is highly tear and puncture-resistant.
Consistent yellow-orange solar image.
Even density with any aperture that keeps a flat surface as compared to other thin-film filters that have wrinkles and creases.
Thousand Oaks Optical Guarantees Solarlite Filter Material for 15 years.
Observe Granulation Features and Sun Spots. Perfect for Eclipse Chasers!

Explore Scientific's Sun Catcher Variable Large Aperture Solar Filters are available in many sizes to work on most telescopes from 70mm up to 12-inch SCTs, and of course all Explore FirstLight, and Explore Scientific Telescopes.

The Solar Filter material being used is the new advanced 'Solarlite' Film manufactured by world-famous Thousand Oaks Optical through years of research and development. 'Solarlite' is a new solar film that has the optical quality of glass with the advantages of impregnated polymer… perfect for the solar astrophotographer!
Payment & Security
Payment methods
Your payment information is processed securely encrypted during transmission. We do not store credit card details nor have access to your credit card information.
Before you go...
Here's a discount code to take $10 off any order over $250.
Code expires soon.
Ends September 24, 2023 at 7:59 pm