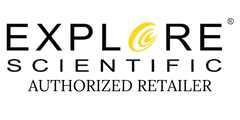 Neutral Density Filter 1.25" ND 0.9
Neutral Density Filter 1.25" ND 0.9 is backordered and will ship as soon as it is back in stock.
Neutral Density Filter 1.25" ND 0.9
Features
ND 0.9 Density, 13% Light Transmittance
Even Reduction of Light Intensity
Works Across Entire Spectrum
Enhances Viewing of Bright Objects
Ideal for Use on 4" or Larger Telescopes
Ideal for viewing bright objects in the nighttime sky, the Explore Scientific Neutral Density 0.9 Filter is compatible with telescopes featuring a 1.25" eyepiece. This solid ND 0.9 filter transmits 13% of light across the UV, IR, and visible spectra, and cuts down on visible glare, without affecting color fidelity.
It is particularly well-suited for observing or photographing the Moon with any telescope 4" or larger, and can also be used for splitting close double stars where one of the binary pair far exceeds the other in brightness.
Color Filter #ND96 Moon Filter (0.9 density; 13% transmission)
Payment & Security
Payment methods
Your payment information is processed securely encrypted during transmission. We do not store credit card details nor have access to your credit card information.
Before you go...
Here's a discount code to take $10 off any order over $250.
Code expires soon.
Ends September 27, 2023 at 7:59 pm