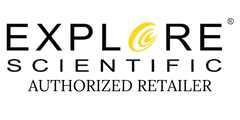 Nebula Filter UHC 1.25-inch
Nebula Filter UHC 1.25-inch is backordered and will ship as soon as it is back in stock.
Nebula Filter UHC 1.25-inch
Features
Increased Contrast for Nighttime Viewing
Blocks Light Pollution Wavelengths
Passes H-Alpha, H-Beta, and O-III Lines
Improved Visibility of Emission Nebulae
Explore Scientific Nebula Filter 1.25" UHC Range from 458nm to 508nm with peak at 488nm. Transmission 96.7%
Designed to better enable nighttime viewing of nebulae through telescopes the UHC Nebula Filter increases viewing contrast by blocking a majority of the wavelengths of light pollution in order to gain increased detail.
UHC - This is an ultra-high contrast narrow-band filter, designed for observing the broad range of nebulae with 1.25-inch standard eyepieces or filter wheels. The bandpass is tighter than the CLS Nebula Filter, thereby blocking even more light from artificial lights and airglow.
This filter passes the H-Alpha and H-Beta emission lines at 486nm and 656nm, as well as oxygen emission lines at 496nm and 501nm, in order to brighten nebulae while darkening the sky background for increased contrast and subject definition.
Compared to unfiltered observation, this UHC filter offers clear visibility of the Owl Nebula M97, Veil Nebula NGC6992, and even the Dumbbell Nebula M27 when observing under typical terrestrial lighting.
Payment & Security
Payment methods
Your payment information is processed securely encrypted during transmission. We do not store credit card details nor have access to your credit card information.
Before you go...
Here's a discount code to take $10 off any order over $250.
Code expires soon.
Ends September 24, 2023 at 7:59 pm