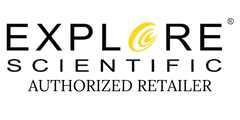 Nebula Filter H-Beta 1.25-inch
Nebula Filter H-Beta 1.25-inch is backordered and will ship as soon as it is back in stock.
Nebula Filter H-Beta 1.25-inch
Features
Increased Contrast for Nighttime Viewing
Ideal for Astrophotography
Passes H-Beta Emission Line, 478-496nm
Fits standard 1.25" Eyepieces
Explore Scientific Nebula Filter 1.25" H-Beta Range from 478nm to 496nm with peak at 489nm. Transmission 94.5%

H-Beta - Hydrogen is the most abundant element in the universe and many nebulae glow in the light of H-beta. This line filter blocks all other wavelengths (and thereby nearly all of the artificial light) and only the emission line of hydrogen beta will pass.
It is an ideal companion accessory for visual observation and astrophotography applications, and will fit most standard 1.25" telescope eyepieces, filter wheels, eyepiece cameras, and other accessories.
Payment & Security
Payment methods
Your payment information is processed securely encrypted during transmission. We do not store credit card details nor have access to your credit card information.
Before you go...
Here's a discount code to take $10 off any order over $250.
Code expires soon.
Ends September 24, 2023 at 7:59 pm