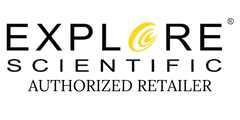 Nebula Filter CLS 2.0-inch
Nebula Filter CLS 2.0-inch is backordered and will ship as soon as it is back in stock.
Nebula Filter CLS 2.0-inch
Features
Increased Contrast for Nighttime Viewing
Wider Transmission Curve than UHC Filter
Passes 436-536nm, 98.3% Transmittance
Ideal for Astrophotography
Explore Scientific Nebula Filter 2" CLS Range from 436nm to 536nm with peak at 488nm. Transmission 98.3%

This is a general-purpose light-pollution reduction filter designed for observing the broad range of deep sky objects including nebulae and galaxies. The CLS does a good job of increasing contrast, providing a darker sky background.
Ideal for visual observation and astrophotography applications under light-polluted skies, this filter features a wider transmission curve than a UHC filter and helps to brighten the appearance of stars and other phenomena by reducing light pollution wavelengths.
It is designed for 2.0"-diameter telescope eyepieces and viewing accessories.
Payment & Security
Payment methods
Your payment information is processed securely encrypted during transmission. We do not store credit card details nor have access to your credit card information.
Before you go...
Here's a discount code to take $10 off any order over $250.
Code expires soon.
Ends September 27, 2023 at 7:59 pm