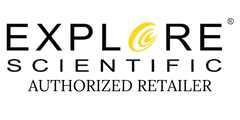 HR Variable Coma Corrector (2-inch) - HRCC02-00
HR Variable Coma Corrector (2-inch) - HRCC02-00 is backordered and will ship as soon as it is back in stock.
HR Variable Coma Corrector (2-inch)
Features
Minimizes Comatic Aberration
Multi-Coated Lenses
Textured Rubber Grip
0.75" and 1.00" Adapters for T-Adapter
After hours at the eyepiece, you finally get to view the fruits of your astrophotography labors. The stars in the center of the field pop like brilliant precise points of light. But as you survey the image, you notice the stars at the edge have taken on an unnatural comet-like shape. Your long night has been marred by coma. Coma is a common plague of the Newtonian reflector design, and its annoying presence at the outskirts of an image can be a bane for astronomers of all levels.
Explore Scientific's HR Variable Coma Corrector is a high-performance optical corrector designed by world famous optical designer Harrie Rutten, and it will help you minimize or even eliminate image aberrations caused by this off-axis optical phenomenon even in fast Newtonians.
This 2-inch coma corrector is EMC Coated to reduce internal reflections and its spacer with markings allow you to use the device on almost any Newtonian telescope with a parabolic primary mirror, even fast Newtonians.
Tightly secured by three thumbscrews, this accessory comes with two adapters (M42x0.75 and M48x0.75) to secure to your T adapter and a protective cap.
Item Number

Optics

Barrel Size

Dimensions

Weight

Warranty
Payment & Security
Payment methods
Your payment information is processed securely encrypted during transmission. We do not store credit card details nor have access to your credit card information.
Before you go...
Here's a discount code to take $10 off any order over $250.
Code expires soon.
Ends September 24, 2023 at 7:59 pm