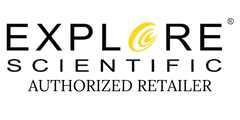 Explore Scientific U-mount with tripod for large binoculars - 01-14300
Explore Scientific U-mount with tripod for large binoculars - 01-14300 is backordered and will ship as soon as it is back in stock.
Out of stock
Sign up to be the first to know when this product becomes available
---
Explore Scientific U-mount with tripod for large binoculars
Features
Solid fork mount with tripod for large binoculars
Carries binoculars up to 12kg and a width of max.290mm
Soft and even movement of the large binoculars
Infinitely variable friction adjustment in both axes
Large handwheels - can also be operated with gloves
Adjustment range AZ / ALT: 360 degrees / 0 to 90 degrees
Optimal vibration damping thanks to the stainless steel tripod
Comfortable observation position in all positions
Adjustment height of tripod with mount: approx. 100 to 140 cm
Integrated accessory tray made of aluminum
When using large binoculars, a stable mount and tripod with a suitable load-bearing capacity are essential. The new EXPLORE SCIENTIFIC U-mount with field tripod has been specially designed for the EXPLORE SCIENTIFIC BT large binoculars series, but also fits most other binoculars with a lens diameter of 70 to 120mm that have a 1/4 inch photo thread connection on the underside. With the U-mount there is no shaking or annoying vibrations, the combination is as if made from one piece and provides unadulterated observation fun in all setting positions of the binoculars. Regardless of whether you are surveying the starry sky or observing the landscape, the U-Mount is a solid base for your large binoculars and enables smooth and even movements in both axes.
The U-mount as a base for large binoculars and always with you on every excursion
An easily transportable but solid mount is essential when using large binoculars. A simple photo tripod with a ball head or video tilt head is quickly overwhelmed here. The new EXPLORE SCIENTIFIC U-mount has a fine-grained mechanism with adjustable friction in both axes, and enables easy adjustment and tracking even when the payload is fully utilized. Depending on the set intensity of the friction, the position of the binoculars is kept stable or a soft and even movement can take place. The large adjusting screws on both axes run smoothly and are easy to use even with gloves and clammy fingers. The massive construction of the U-mount reduces vibrations to an absolute minimum. Even at high magnification there is no blurring and the finest details can be observed. The U-mount and tripod can be separated for easy transport.
Assembly of the large binoculars on the U-mount
With the help of the quick-change adapter plate included in the scope of delivery, the binoculars can be mounted and removed again in a few seconds. This is a major advantage, especially for mobile outdoor use. The connection between the binoculars and the adapter plate is made using two 1/4 inch threaded bolts (standard photo tripod thread), which are guided variably in an elongated hole. Universal use with different binoculars is therefore possible. The double screw connection guarantees a very secure fit of the binoculars. The adapter plate itself is also attached to the U-mount with the help of two large clamping screws, which can also be easily operated with gloves. Nothing wobbles here and all controls are easy to use.
The field tripod provides a secure stand
Regardless of the surface, the EXPLORE SCIENTIFIC tripod offers a secure stand. The solid aluminum and stainless steel construction effectively suppress any kind of vibrations. The 50mm diameter stainless steel tripod legs and the aluminum tripod head plate are an ideal combination and offer maximum stability with a moderate transport weight of only 5.8kg. With the tripod legs put on and pushed in, the transport dimensions are only 80cm long. The accessory tray included in the scope of delivery also serves to brace the tripod legs towards the outside and thereby increase stability. By pulling out the tripod legs, the working height for the binoculars can be individually adjusted in a range from approx. 100 to 140cm.
Item Number

Dimensions

Weight

Warranty
Payment & Security
Payment methods
Your payment information is processed securely encrypted during transmission. We do not store credit card details nor have access to your credit card information.
Before you go...
Here's a discount code to take $10 off any order over $250.
Code expires soon.
Ends September 24, 2023 at 7:59 pm