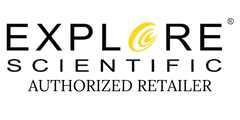 Explore Scientific EXOS2-GT Equatorial Mount with PMC-Eight GoTo System - ES-EXOS2GTPMCT3-00
Explore Scientific EXOS2-GT Equatorial Mount with PMC-Eight GoTo System - ES-EXOS2GTPMCT3-00 is backordered and will ship as soon as it is back in stock.
Out of stock
Sign up to be the first to know when this product becomes available
---
Explore Scientific EXOS2-GT Equatorial Mount with PMC-Eight GoTo System
Features
Motorized Computer-Controlled EQ Mount
28 lb / 40 lb Capacity + Counterweight
Precision Dual-Axis Micro-Stepper Motor
Integrated Wi-Fi for Wireless Control
ExploreStars GoTo App for Windows
70,000+ Object Database
Multiple Alignment Processes
Vixen-Style Dovetail Saddle
2" Adjustable-Height Tripod with Tray
Runs on Eight D-Cell Batteries
The award winning Explore Scientific EXOS2-GT PMC-Eight Equatorial Mount with its 28 lb instrument payload capacity for astrophotography is an excellent choice for many of Explore Scientific's telescopes as well for the visual astronomer where the instrument payload capacity can be pushed much and more, providing a very solid portable solution for those who want to use a larger telescope that would normally require a much larger equatorial platform.
We often get calls about the "load capacity" of our mounts. For telescope tracking mounts there are generally two different specs: instrument payload capacity for astrophotography, and instrument payload capacity for visual use.
Payload capacity ratings for visual are normally much higher than for astrophotography because with added weight beyond a certain point, there is an increase in tracking error (e.g. periodic error, etc.). For the EXOS2 GT PMC-Eight the instrument payload capacity for astrophotography is 28lbs + counterweights. And for visual use, the instrument payload capacity is 40 lbs + counterweights.
Note that we chose stepper motors for the PMC-Eight instead of DC servo motors because they can handle incredible strain and not damage mechanical nor electronic components.
Explore Scientific's PMC-Eight GOTO system can be controlled wirelessly or wired with a tablet or PC, with Windows 8.1 or 10, Android, Amazon Fire, or iOS, with a free app called ExploreStars. Tablet must be purchased separately.
The ExploreStars App controls any PMC-Eight mount by means of an intuitive graphical interface. Among other features ExploreStars offers both 2-star and 3-star alignment procedures, educational information and images of the more popular celestial objects, and a choice of over 80,000 objects for viewing.
The  ExploreStars object database encompasses a wide range of celestial objects including those in the Solar System, the Messier Catalog, the New General Catalog, and the Index Catalog, as well as a collection of over 70,000 stars. The Celestial Database also includes educational material and images for many of the more popular objects. This database is available as a separate updatable component of the ExploreStars software system. It can expand over time and any ExploreStars implementation can easily be updated by downloading a fresh copy of the Celestial Database. In fact, the educational material and images within the database can be customized by each individual user using Microsoft Access.
In addition to ExploreStars, we provide an ASCOM interface that will allow a huge range of star map software to control the PMC-Eight. Here are just are some examples that are currently available: ACP; APT; AST / ATC & Ricerca (Omega Lab); AstroArt; AstroMB; Cartes du Ciel / Sky Chart; CCD AutoPilot; DeepSky; Deepsky Planner; DFM Engineering; Earth Centered Universe Pro; EasySky; Eye and Telescope; Project Pluto; Hallo Northern Sky; Maxim DL; MaxPoint; PinPoint Astrometric; Prism; Sequence Generator Pro; Sidereal Technology; The Sky; SkyMap Software; SkyTools 3; Star Atlas PRO; Sky Observer; StarryNight; Stellarium; and Virtual Moon Atlas.
Mount

Payload capacity for astrophotography is 28 lb plus the included counterweight
For visual use, the maximum payload is 40 lb plus the counterweight
Cast aluminum with black powder coat
Vixen-style dovetail saddle to mount compatible OTAs
Northern hemisphere illuminated polar axis scope to increase alignment precision
Integrated "bull's eye" bubble level on mount base
Runs on eight user-supplied D-cell batteries
Electronics

Integrated 10/100 Wi-Fi with full IP functionality enables direct connection to computers, smartphones, tablets, and networks for remote system control
PMC-Eight motor control system with a scalable 8-CPU multi-processor array that allows control of multiple systems from single user interface
64KB EEPROM non-volatile memory bank retains settings and time when mount is turned off
Fully compatible with any computer platform using an ASCOM-compliant software package
Serial and standard ST4 auto-guiding ports
Motors

High-resolution Nema11 bipolar 0.09°, 400-count stepper motor
Micro stepping controller enables the motor to work at 12,800 steps per revolution
Belt-drive system with precision 45-groove and 10-groove timing pulleys
Strong and long-lasting fiberglass re-enforced neoprene belt
Drive rates accurate to a few arcseconds per day
Reversible for use in Northern and Southern Hemispheres
Ball bearings on both axes reduce vibrations and minimize backlash at all tracking and slew speeds
ExploreStars GoTo System

70,000+ object database including 2000+ stars, with a downloadable catalog of 72,000+ additional stars
Native catalogs include: Bayer, Flamstead, SAO, HD/Harvard, DM, BD/CD/CPD, GSC, and RNGC/IC
Open source code with available developer kit allows for complete customization and sharing
Four-button interface for guiding, centering, moving, and slewing using device touchscreen
Selectable and user-defined GoTo, Slewing, Centering, and Guiding rates
1-star, 2-star, and 3-star alignment processes
Sidereal, King, Lunar, Solar, and user-defined tracking rates
Additional functions: Synchronize, Search, Coordinate input
Custom mount support using user-defined stepper count scaling
Tripod

Three-section adjustable height
2" stainless steel legs
26.8 to 42.5" height adjustment range
Center stabilizer bar locks legs in place to reduce vibrations
Accessory tray with holes for 1.25" eyepieces
Spiked feet for use on ground and grass for increased stability, especially on rough or uneven areas
Item Number

Weight

Other Details

Warranty
Payment & Security
Payment methods
Your payment information is processed securely encrypted during transmission. We do not store credit card details nor have access to your credit card information.
Before you go...
Here's a discount code to take $10 off any order over $250.
Code expires soon.
Ends September 24, 2023 at 7:59 pm