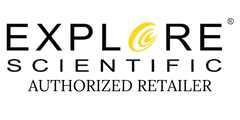 Explore Scientific Astro R-Lite Red Flashlight - ES-FL1001
Explore Scientific Astro R-Lite Red Flashlight - ES-FL1001 is backordered and will ship as soon as it is back in stock.
Explore Scientific Astro R-Lite Red Flashlight
Features
Explore Scientific's Astro R-Lite is a rugged red beam flashlight designed to specifically meet the needs of amateur astronomers. This versatile device will allow you to read star charts or make equipment changes without disturbing the crucial adjustments your eyes have made to dark conditions.

The Astro R-Lite is the perfect size to be tucked into a pocket and weighs just 2.7 ounces with the battery installed. It offers a built-in belt/pocket clip and comes with a neck strap for quick access.

The Astro R-Lite offers several lighting modes for versatile performance. The orange button on the end turns the flashlight on and off and changes light modes from high to low to a flashing mode that is ideal for signaling.

Built to perform in changing conditions, the Astro R-Lite has an aluminum body that can withstand accidental drops, heavy rain, snow and brief water submersions.

The Astro R-Lite has a sliding control that quickly changes the beam intensity on the high and low modes to fit rapidly changing lighting needs.

The Astro R-Lite has a highly efficient LED bulb capable of providing hours of continuous red light on a single AA battery. Battery not included.

Item Number

Weight

Other Details

Warranty
Payment & Security
Payment methods
Your payment information is processed securely encrypted during transmission. We do not store credit card details nor have access to your credit card information.
Before you go...
Here's a discount code to take $10 off any order over $250.
Code expires soon.
Ends September 24, 2023 at 7:59 pm