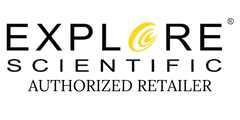 Explore Scientific 52° Series 1.25" 30mm Waterproof Eyepiece - EPWP5230-01
$99.97 $149.99
Unavailable
Explore Scientific 52° Series 1.25" 30mm Waterproof Eyepiece - EPWP5230-01 is backordered and will ship as soon as it is back in stock.
Explore Scientific 52° Series 1.25" 30mm Waterproof Eyepiece
Features
30mm Focal Length
52° Apparent Field of View
1.25" Diameter Barrel
Fully EMD Multi-Coated Optics
Argon-Filled, Water and Fogproof
Slip-Resistant Textured Surface
Fold-Down Eyecup
Loved by deep sky observers, a 30mm focal length eyepiece produces a large exit pupil which floods your dilated eye with light, which is needed to see faint galaxies and nebulae. Low power eyepieces are very important to observers for a variety of reasons: Their wide true field of view make object location and pointing far easier.; Many deep sky objects are large and are best viewed at the lowest magnifications your telescope/eyepiece combination can achieve. When seeing conditions are poor, objects will often still look sharp at low powers.
Explore Scientific Waterproof Eyepieces - Comfort, Quality, Value. The Explore Scientific 52° Series eyepieces are excellent flat-field multi-element oculars that can transform your visual astronomy experience. With an apparent field of view of 52 degrees, these eyepieces offer incredible value in a very nice eyepiece. Expect exceptional quality, eye relief and value versus a comparably priced Plossl.
Another great benefit of these eyepieces is the excellent contrast and ease with which you can gaze, not directly at an object, but slightly to either side. This skill, called using averted vision, is especially helpful when observing faint objects, because using averted vision puts the image on a part of your eye that is more sensitive to light, allowing you to see fainter images.
Item Number

Focal Length

Field of View

Optics

Barrel Size

Dimensions

Weight

Warranty
Payment & Security
Payment methods
Your payment information is processed securely encrypted during transmission. We do not store credit card details nor have access to your credit card information.
Before you go...
Here's a discount code to take $10 off any order over $250.
Code expires soon.
Ends September 24, 2023 at 7:59 pm