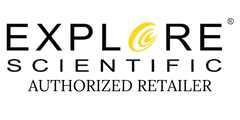 Explore Scientific 3-inch Self-Centering Focuser
Explore Scientific 3-inch Self-Centering Focuser - 3-inch Self-Centering Focuser for 152mm / 165mm ES Refractors is backordered and will ship as soon as it is back in stock.
Explore Scientific 3-inch Self-Centering Focuser
Features
With its ability to support heavy imaging trains without sacrificing stability, precision or smooth rotation, the robust Explore Scientific 3-inch Self-Centering Focuser is designed to meet the demanding requirements of astrophotography.

This heavy-duty focuser has a self-centering compression system that applies pressure equally to the draw tube, guaranteeing a tight, secure fit. This uniform pressure creates a stable base for an imaging setup and prevents flex, tilt and image shift. The draw tube, which is long enough to eliminate the need for extension tubes, is moved by a helical rack-and-pinion system lubricated with marine-grade PTFE silicone for an easy glide with maximum precision and minimal backlash. The interior of the draw tube has a diameter of 3 inches that is lined with multiple baffles to reduce reflection.

The draw tube, which has a travel of 84.5mm, is supported by a locking clutch system. The focusing system has a lifting capacity of 17 pounds. Moderate tightening offers an infinite range of tension to best suit the application.

Weighing in at 5.7 pounds, the focuser is made of black anodized aluminum. It has a 9:1 focus system with stainless-steel ball bearings and stainless-steel focus shaft. This system works as a clutch to prevent damage to the focusing mechanism. The focusing system is compatible with popular after-market electric focuser devices.

A back cell adapter with no-tool knobs attaches the focuser at four contact points to select Explore Scientific refractors with apertures ranging from 120mm to 140mm. The knobs on the adapter can be hand turned, eliminating the need for a hex key. This makes it easy to adjust the rotation of the focuser with minimal observing or imaging interruption. A Teflon ring on the focuser adds to the smooth rotation. NOTE: Explore Scientific white-tube telescopes with threaded back cells must be shipped to Explore Scientific for installation of the back cell adapter. This will be arranged by customer service.

NOTE: The Explore Scientific 152mm and 165mm models do not require this back cell adapter.

For versatility, the focuser can hold 2-inch or 3-inch visual or camera accessories and comes standard with twist-lock. In addition to allowing accessories to be secured with a compression fitting, this draw tube's M82 x 1.25 pitch thread accepts adapters with a variety of uses. 
Item Number

Barrel Size

Dimensions

Weight

Warranty
Payment & Security
Payment methods
Your payment information is processed securely encrypted during transmission. We do not store credit card details nor have access to your credit card information.
Before you go...
Here's a discount code to take $10 off any order over $250.
Code expires soon.
Ends September 27, 2023 at 7:59 pm