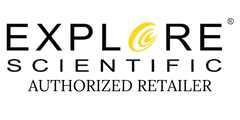 Explore Scientific 2" Variable Polarizing Filter
Explore Scientific 2" Variable Polarizing Filter is backordered and will ship as soon as it is back in stock.
Explore Scientific 2" Variable Polarizing Filter
Features
Variable polarizing filter
Individually adjustable image brightness
Made from highly parallel optical glass
Black anodized aluminum housing
2" filter thread on both sides
Dust cover included
This universally applicable Explore Scientific 2" Variable Polarizing Filter allows continuous adjustment of image brightness, which is very helpful for strong contrast differences in various observation objects. It is especially suited to lunar and planetary observation, but also useful for solar viewing to prevent blooming. A suitable protection filter is required for solar observation.
When using a Herschel wedge with large lens openings, the variable polarization filter can reduce the brightness of observed objects to a comfortable level. The wide control range of 40 to 1% light transmission and the neutral gray filter effect create a pleasant and unadulterated image.
Operation is very simple. By turning the two halves of the housing, the desired strength of the filter effect is set. The inside/outside threads allow the simultaneous use of other color filters.
Payment & Security
Payment methods
Your payment information is processed securely encrypted during transmission. We do not store credit card details nor have access to your credit card information.
Before you go...
Here's a discount code to take $10 off any order over $250.
Code expires soon.
Ends September 27, 2023 at 7:59 pm