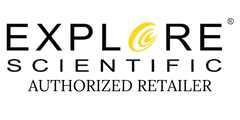 Explore Scientific 2" AR Series Focuser
Explore Scientific 2" AR Series Focuser is backordered and will ship as soon as it is back in stock.
Explore Scientific 2" AR Series Focuser
Features
Explore Scientific's dual speed, 2" AR Series Focuser comes with a 1.25" compression ring eyepiece adapter for added versatility. This adapter for your 2" eyepiece or barreled accessory locks securely into place with three set screws so everything stays put.
The heavy-duty focuser has 10:1 micro-focusing knobs as well as a rough focus knob. This 10:1 ratio means that you would have to rotate the micro-focusing knob ten times to get the same focus movement with just one rotation of the larger knob. The focus knobs themselves are large and knurled, so that you can grip them easily, even when your hands are cold or you are wearing gloves.
The focuser also offers tension adjustment that allows you to lock and/or adjust the tension on the drawtube. This is a nice feature that comes in handy when you increase or decrease the weight of eyepieces, cameras or other accessories.
Item Number

Barrel Size

Dimensions

Weight

Warranty
Payment & Security
Payment methods
Your payment information is processed securely encrypted during transmission. We do not store credit card details nor have access to your credit card information.
Before you go...
Here's a discount code to take $10 off any order over $250.
Code expires soon.
Ends September 27, 2023 at 7:59 pm