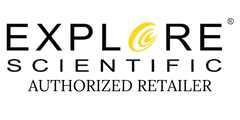 Explore Scientific 100° Series 3" 30mm Waterproof Eyepiece
Explore Scientific 100° Series 3" 30mm Waterproof Eyepiece is backordered and will ship as soon as it is back in stock.
Explore Scientific 100° Series 3" 30mm Waterproof Eyepiece
Features
30mm Focal Length
100° Field of View
3" Diameter Barrel
Fully Multicoated Optics
Argon-Filled, Water and Fogproof
Slip-Resistant Textured Surface
Easy-Insertion Double-Tapered Barrel
Fold-Down Eyecup
Explore Ultra-Wide Eyepieces - Comfort, Quality, Value. The Explore Scientific 100° Series eyepieces are hyper-wide class oculars that can transform your visual astronomy experience. You may be startled at the amazingly wide expanse of inky black sky you behold the first time you bring your eye to a 100° Series eyepiece, and after awhile, you may even forget that you have an eyepiece between you and the universe! With an apparent field of view that is close to the maximum for hyper-wide eyepiece design, objects are not only easier to locate, but for non-driven telescopes the object will stay in the field of view for a very long time before any adjustments need to be made.
Another great benefit of hyper-wide eyepieces is the ease with which you can gaze, not directly at an object, but slightly to either side. This skill, called using averted vision, is especially helpful when observing faint objects, because using averted vision puts the image on a part of your eye that is more sensitive to light, allowing you to see fainter images.
Huge apparent field of view not only gave the observer a panoramic visual experience, but they relax the eye so the observer could pay attention to subtle details for extended periods.
Each 100° Series Argon-Purged Waterproof eyepiece is internally sealed and purged with inert, dry argon gas.
This also maximizes the life of the internal coatings.
Every 100° eyepiece is tested by submerging them down to 1 meter of water for 30 minutes.
All 100° Series eyepieces are fully multi-coated and edge-blackened to produce maximum contrast.
Item Number

Focal Length

Field of View

Optics

Barrel Size

Dimensions

Weight

Warranty
Payment & Security
Payment methods
Your payment information is processed securely encrypted during transmission. We do not store credit card details nor have access to your credit card information.
Before you go...
Here's a discount code to take $10 off any order over $250.
Code expires soon.
Ends October 2, 2023 at 7:59 pm