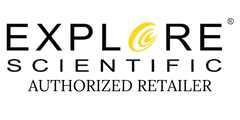 Explore Scientific 1.25" 3X Focal Extender - FE03-125
Explore Scientific 1.25" 3X Focal Extender - FE03-125 is backordered and will ship as soon as it is back in stock.
Explore Scientific 1.25" 3X Focal Extender
Features
Increases Eyepiece Magnification 3x
Fits 1.25" Holders and Accessories
4-Element Optical Configuration
Fully Multi-Coated Optics
Accepts Standard 1.25" Eyepieces
A good Focal Extender adds some real versatility to your telescope accessory line-up.
First of all, it allows you to increase the magnification of any eyepiece with the same barrel size that you already own. In other words, 3 eyepieces offer 6 magnification choices with the addition of a focal extender.
Secondly, most of the time, lower magnification eyepieces have better eye relief than higher power models. When using a focal extender to increase your magnification, you get to enjoy the generous eye relief of the lower power eyepiece, and that's quite a bonus, especially for eyeglass wearers or for those with fast telescopes who can really push high magnification eyepieces.
Built with a 1.25" nosepiece that fits the most popular size of drawtubes, focusers, and diagonals, the Explore Scientific 1.25" 3x Focal Extender  triples the power of any 1.25" eyepiece, adding another layer of usability to the eyepieces you have.
Plus, since long focal length (low-power) eyepieces often offer a longer eye relief than short focal length (high-magnification) ones, using this focal extender gives you the benefit of comfortable viewing while enjoying high-power observations.
This extender has a fully multi-coated 4-element lens configuration to produce bright images with true color representation without distortion across the entire field of view, and the edges of the lenses are blackened to further improve contrast.
Item Number

Barrel Size

Dimensions

Weight

Warranty
Payment & Security
Payment methods
Your payment information is processed securely encrypted during transmission. We do not store credit card details nor have access to your credit card information.
Before you go...
Here's a discount code to take $10 off any order over $250.
Code expires soon.
Ends September 24, 2023 at 7:59 pm