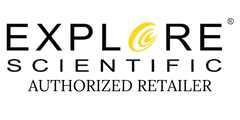 Explore FirstLight 80mm f/8 Refractor Telescope with Twilight Nano Mount
Explore FirstLight 80mm f/8 Refractor Telescope with Twilight Nano Mount is backordered and will ship as soon as it is back in stock.
Explore FirstLight 80mm f/8 Refractor Telescope with Twilight Nano Mount
Features
80mm (3.1") aperture will reveal impressive lunar details ranging from craters to rilles; planetary features like Saturn's ring structure or Jupiter's cloud belts; and bright deep sky treasures like galaxies, nebulae and clusters.
Twilight Nano alt-azimuth mount has a panhandle control that makes it easy to position the telescope.
Mount is lightweight but can still hold up to 15lbs of equipment.
Full size tripod includes accessory tray to keep eyepieces handy and provide additional stability.¨
Model comes with a 25mm Plössl eyepiece, a 90° diagonal for more comfortable viewing and a red dot viewfinder to aid in object location.
Built-in dew shield slows moisture build-up on the objective lens and reduces interference from ambient light.
Included adapter helps observers use their smart device to capture and share images.
The Explore Scientific FirstLight 80mm f/8 Twilight Nano Alt-Az Refractor Telescope is ideal for users who want a portable platform for lunar and planetary observations.
Its 80mm aperture and shorter focal length produce a fast focal ratio for high quality resolution. Additionally, its 40mm draw tube focuser helps avoid vignetting with larger imaging sensors or wide-field eyepieces.
This model includes a Twilight Nano Alt-Az Mount that features dual-axis control cables to allow users to track celestial objects as they move across the night sky. Plus, its stainless steel tripod provides additional stability and comes with an accessory tray.
As an added benefit, this package includes an adapter that allows you to use your smartphone to easily capture and share the beauty unfolding in your eyepiece. With Firstlight, the only thing you need to provide is a desire to discover.
FirstLight AR80mm White Tube Refractor with 640mm focal length f/8 telescope with fully-coated glass; Twilight Nano Alt/Az mount; 40mm draw tube focuser; 1.25" 90° Diagonal; Plossl 25mm eyepiece; and Red-dot Finder; Smartphone Camera adapter.
Item Number

Aperture

Focal Length

Focal Ratio

Optics

Barrel Size

Other Details

Warranty
Payment & Security
Payment methods
Your payment information is processed securely encrypted during transmission. We do not store credit card details nor have access to your credit card information.
Before you go...
Here's a discount code to take $10 off any order over $250.
Code expires soon.
Ends September 27, 2023 at 7:59 pm