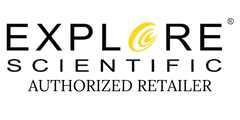 Explore FirstLight 127mm f/15 Mak-Cassegrain Telescope with EQ3 Mount - FL-MC1271900EQ3
Explore FirstLight 127mm f/15 Mak-Cassegrain Telescope with EQ3 Mount - FL-MC1271900EQ3 is backordered and will ship as soon as it is back in stock.
Out of stock
Sign up to be the first to know when this product becomes available
---
Explore FirstLight 127mm f/15 Mak-Cassegrain Telescope with EQ3 Mount
Features
127mm / 5" Catadioptric OTA
1900mm Focal Length
f/15 Focal Ratio
Fully Multi-Coated Optics
Internal Focusing Mechanism
1.25" 25mm Eyepiece and 90° Diagonal
EXOS Nano EQ3 German Equatorial Mount
Dual-Axis Slow Motion Knobs
Red-Dot Finderscope
Smartphone Eyepiece Adapter
1.25" Stainless Steel Tripod with Tray
The versatile Explore FirstLight 127mm f/15 Maksutov-Cassegrain Telescope with EXOS Nano EQ3 Mount is a highly portable and powerful observation platform that can provide detailed views of the Moon and planets while also having the ability to observe brighter deep-sky objects such as nebulae and galaxies.
This model comes with an EXOS EQ3 German Equatorial Mount, which is designed to smoothly track celestial objects as they journey across the sky and has two flexible shafts for precise guiding. Plus, the stainless steel full size tripod includes an accessory tray to keep eyepieces handy and provide additional stability.
As an added benefit, this package includes an adapter that allows you to use your smartphone to easily capture and share the beauty unfolding in your eyepiece. With Firstlight, the only thing you need to provide is a desire to discover.
FirstLight MAK127mm White Tube Maksutov-Cassegrain with 1900mm focal length f/15 telescope with EXOS Nano EQ3 German Equatorial mount; 40mm draw tube focuser; 1.25" 90° Diagonal; Plossl 25mm eyepiece; and Red-dot Finder; Smartphone Camera adapter.
Item Number

Aperture

Focal Length

Focal Ratio

Optics

Barrel Size

Dimensions

Weight

Other Details

Warranty
Payment & Security
Payment methods
Your payment information is processed securely encrypted during transmission. We do not store credit card details nor have access to your credit card information.
Acceptable quality.
Haven't had much of an opportunity to use it much here. Mosquito City where I live, snow in the winter. Spring and fall are best. Swamp in the back and front. Makes a great Mosquito hatchery. I could use another counterweight for the mount. 2.3 pounds is insufficient. I just might have to purchase the Dobsonian counterweight that comes with 2 counterweights.
Before you go...
Here's a discount code to take $10 off any order over $250.
Code expires soon.
Ends September 24, 2023 at 7:59 pm