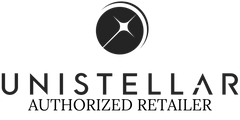 Unistellar eQuinox 2 Digital Reflector Telescope and Backpack Bundle
Unistellar eQuinox 2 Digital Reflector Telescope and Backpack Bundle is backordered and will ship as soon as it is back in stock.
Unistellar eQuinox 2 Digital Reflector Telescope and Backpack Bundle
The eQuinox 2 is a game changer for urban astronomers.
This smart telescope allows you to observe galaxies, nebulae and planets in full color from even the most urban brightly lit areas. You can enjoy the beauty of deep space, protect the planet against near-earth asteroids, conduct hands-on science, and so much more.
No advanced training is required to begin your eQuinox 2 outer space adventure. Novices and pros alike can grow their space discoveries and science skills, using one powerful, portable smart device.
Autonomous Field Detection
Enjoy the click-and-wow telescope: in just one minute, the eQuinox 2 is unpacked and at work, a minute later you could be observing the Whirlpool galaxy in full color and detail.
Our Autonomous Field Detection technology allows it to quickly orient itself in the sky, even when only a few stars are visible. Using your smartphone's GPS, it can locate itself on Earth and access its own database of millions of stars. With this technology, the telescope can spot stars that are not visible to the naked eye and compare their positions to its database to accurately determine its pointing location.
Enhanced Vision Technology
Enhanced Vision Technology utilizes image stacking and live image processing techniques to provide a truly unique viewing experience of outer space.
By optimizing the images captured live by the telescope, this technology allows for unparalleled views of the cosmos.
Deep Dark Technology
The eQuinox 2 is an innovative smart telescope that brings the wonders of space within reach, even in brightly lit urban areas. Its Deep Dark Technology uses advanced image processing to filter out the effects of city lights, allowing for clear, high-resolution images of celestial objects. With the eQuinox 2, you can see the stunning blue and red hues of the Ring Nebula or the red spot of Jupiter, even from the heart of the city.
Citizen Science - Contribute to Cutting-Edge Research
By partnering up with renowned scientific organizations such as the SETI Institute and NASA, the eVscope 2 enables you to participate in ground breaking research on exoplanets, asteroids, comets, and much more.
As part of the Unistellar Community – the largest global community of observers made up of 10,000 telescope users – you'll get to collaborate with experienced users and professional astronomers.
Unistellar App - Smart & Connected
Transform your smartphone or tablet into a cosmic command center with the Unistellar app. Easily access and observe thousands of space objects from our in-app catalog with just a single click and get detailed information about each of your chosen targets.
Our technology eliminates the need for expertise in complex instruments, making space exploration accessible to all.
Effortlessly unlock the wonders of space with our user-friendly technology.
Automated Go-To function
5,000+ objects to choose from
Exclusive information about Nebulaes, Galaxies, planets, Clusters, Stars …
Joystick to explore freely
Snap & Share pictures
… And much more
Unistellar Backpack
Carefully designed with the world leading manufacturer of large telephoto lens transportation bags, our backpack is made of tough reinforced fabric, and carefully padded with high density foam to protect your telescope from any shock.
Ventilated Backpanel
2 large external and 1 hipbelt zipped pocket
5 small internal pockets: 2 zipped, 2 to hold telescope cap and eyepiece lid while observing and a spare one
Padded adjustable hipbelt to distribute the load weight
Padded adjustable shoulder straps
Removable rain shield protects it from rain and humidity
Internal strap to securely fasten the instrument while backpacking
Built-in foam inserts precisely match the shape of your eVscope
Item Number

Magnification

Aperture

Focal Length

Focal Ratio

Field of View

Optics

Weight

Other Details

Warranty
Payment & Security
Payment methods
Your payment information is processed securely encrypted during transmission. We do not store credit card details nor have access to your credit card information.
Before you go...
Here's a discount code to take $10 off any order over $250.
Code expires soon.
Ends September 27, 2023 at 7:59 pm