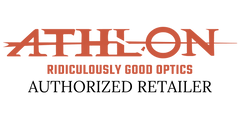 Athlon Optics Midas G2 UHD 10x42 Binoculars
$309.99 $387.49
Unavailable
Athlon Optics Midas G2 UHD 10x42 Binoculars is backordered and will ship as soon as it is back in stock.
Athlon Optics Midas G2 UHD 10x42 Binoculars
Features
10x Magnification
42mm Objective Lens Diameter
341' Field of View at 1000 yards
UHD Glass
Waterproof and Argon-purged
Phase-Corrected BAK4 Prism
ESP Dielectric Coating

XPL Protective Coating
E2E2 Edge-to-Edge Field Flattening System
Midas was known to have a golden touch. He must have laid his hands on these binoculars since they set the gold standard for this class of binoculars.
The Athlon Optics Midas G2 UHD 10x42 Binoculars are designed for serious observation - whether you are hunting, nature viewing, or bird watching - with exceptional edge-to-edge clarity, sharp detail enhancement, ultra-clear brightness, and true color representation.
These binoculars are designed with Athlon's revolutionary E2ES lens system. The edge to edge field flattening system removes distortion on the outermost edge of the field of view, producing sharper and clearer images from one edge of the lens to the other.
Utilizing UHD extra low dispersion glass lenses gives you an advantage with an image that has little or no chromatic fringe for the ultimate clearest and sharpest image.
Its unique XPL protective coating gives you extra protection on the exterior lenses to prevent the scope from enduring dirt, oil, and potential scratches.
Additionally, the state-of-the-art ESP (Enhance Spectral Prism) dielectric coating reflects 99% of the light through the prism assembly.
This model is constructed with a magnesium chassis to reduce weight while keeping the chassis rugged to withstand the scrapes and bumps of constant use.
No matter the conditions, with Midas, the outlook is clear.
Optics
10x magnification brings objects in close for detailed observation
42mm objective lenses improve light-gathering ability, even in challenging conditions such as at dawn and dusk, without the bulk or weight of larger objectives
BAK4 prisms deliver a round exit pupil and a crisp and clear image with limited edge distortion
Phase corrected prism coatings improve contrast and clarity
ESP dielectric coatings on internal reflective surfaces to limit light loss and maximize light transmission through the prism system
Short 8.2-foot close focus distance is ideal for making detailed observations of small subjects like birds, bees, insects, flora & fauna at feeders and flower beds
341' field of view at 1000 yards
Use
Closed bridge configuration provides a solid and stable platform for the internal focusing mechanism
Large center focus wheel is easy to manipulate in cold and wet weather, or when wearing gloves
Twist-up rubber eyecups for comfortable use with or without eyewear
15.2mm eye relief reduces eye strain and increases viewing comfort
Construction
Lightweight magnesium chassis for enhanced durability and comfort
Waterproof and argon-purged to deliver all-weather performance in any environmental condition
Textured armoring with improve grip in cold and wet conditions
Standard 1/4"-20 socket accepts an optional adapter for hands-free use on a tripod
Objective ocular caps ensure that the lenses remain clean with the ability to attach them to the neck strap so they won't get lost
Weight: 1.5 lb / 23.3 oz
Item Number

Magnification

Aperture

Field of View

Optics

Dimensions

Weight

Other Details

Warranty
Payment & Security
Payment methods
Your payment information is processed securely encrypted during transmission. We do not store credit card details nor have access to your credit card information.