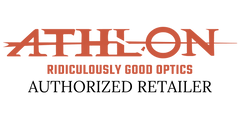 Athlon Optics Cronus UHD 10x50 Rangefinding Binoculars
$1,399.99 $1,749.99
Unavailable
Athlon Optics Cronus UHD 10x50 Rangefinding Binoculars is backordered and will ship as soon as it is back in stock.
Athlon Optics Cronus UHD 10x50 Rangefinding Binoculars
Features
10x Magnification
50mm Objective Lens Diameter
338' Field of View at 1000 yards
2600 yd Ranging Reflective
+/- 0.5 yd Accuracy
Ranging Modes: Incline Angle, Vertical Distance, Horizontal Distance
Yards & Meters Mode
UHD Glass
Waterproof and Argon-purged
Phase-Corrected BAK4 Prism
ESP Dielectric Coating

XPL Protective Coating
E2E2 Edge-to-Edge Field Flattening System
Just like its namesake, Cronus the King of all Mythological Greek Titans, the Athlon Optics Cronus UHD 10x50 Rangefinding Binoculars is the King of the Athlon binoculars!
Athlon's Cronus family brings products inspired by a combined commitment to brightness, clarity, resolution, and exceptional ranging capabilities.
Designed with ranging capabilities of 5 yards to 1000 yards on a deer and out to 2000 yards on a reflective target, these range-finding Binoculars are perfect for any hunting or long-range situation.
These binoculars are designed with Athlon's revolutionary E2ES lens system. The edge to edge field flattening system removes distortion on the outermost edge of the field of view, producing sharper and clearer images from one edge of the lens to the other.
Utilizing UHD extra low dispersion glass lenses gives you an advantage with an image that has little or no chromatic fringe for the ultimate clearest and sharpest image.
Its unique XPL protective coating gives you extra protection on the exterior lenses to prevent the scope from enduring dirt, oil, and potential scratches.
Additionally, the state-of-the-art ESP (Enhance Spectral Prism) dielectric coating reflects 99% of the light through the prism assembly.
This model is constructed with a magnesium chassis to reduce weight while keeping the chassis rugged to withstand the scrapes and bumps of constant use.
Optics
10x magnification brings objects in close for detailed observation
50mm objective lenses improve light-gathering ability, even in challenging conditions such as at dawn and dusk, without the bulk or weight of larger objectives
BAK4 prisms deliver a round exit pupil and a crisp and clear image with limited edge distortion
Phase corrected prism coatings improve contrast and clarity
ESP dielectric coatings on internal reflective surfaces to limit light loss and maximize light transmission through the prism system
2600 yard ranging reflective
1000 yard ranging deer
9.8-foot close focus distance is ideal for making detailed observations of small subjects
338' field of view at 1000 yards
Use
Closed bridge configuration provides a solid and stable platform for the internal focusing mechanism
Large center focus wheel is easy to manipulate in cold and wet weather, or when wearing gloves
Twist-up rubber eyecups for comfortable use with or without eyewear
3 Ranging Modes

Incline Angle (T) mode displays the incline angle of your position to the target.
Vertical Distance (V) mode displays the vertical distance of your position to the target.
Horizontal Distance (H) mode displays the angle compensated distance to the target. This is the primary mode used by most hunters (Both bow and rifle).

Measuring Methods

Auto will automatically decide which setting to use: hunt vs golf
Golf mode is used to measure smaller objects. The Binoculars will display the closest distance when the device detects several objects or background.
Hunt mode will give the furthest distance when the device detects several objects or background.

17mm eye relief reduces eye strain and increases viewing comfort
Construction
Lightweight magnesium chassis for enhanced durability and comfort
Waterproof and argon-purged to deliver all-weather performance in any environmental condition
Textured armoring with improve grip in cold and wet conditions
Objective ocular caps ensure that the lenses remain clean with the ability to attach them to the neck strap so they won't get lost
Weight: 2.4 lb / 38 oz
Item Number

Magnification

Aperture

Field of View

Optics

Dimensions

Weight

Other Details

Warranty
Payment & Security
Payment methods
Your payment information is processed securely encrypted during transmission. We do not store credit card details nor have access to your credit card information.