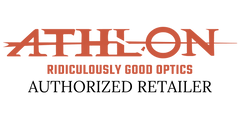 Athlon Optics Cronus G2 UHD 20-60x86 Angled Spotting Scope
$999.99 $1,249.99
Unavailable
Athlon Optics Cronus G2 UHD 20-60x86 Angled Spotting Scope is backordered and will ship as soon as it is back in stock.
Athlon Optics Cronus G2 UHD 20-60x86 45-Degree Angled Spotting Scope
Features
45° Angled Viewing
Powerful 20-60x Zoom Eyepiece
86mm Objective Lens
111' Field of View at 1000 yards on 20x
60' Field of View at 1000 yards on 60x
UHD Glass
Waterproof and Argon-purged
Phase-Corrected BAK4 Prism
ESP Dielectric Coating
XPL Protective Coating
You'll catch every detail with Athlon's latest spotting scope. The 45° angled viewing Athlon Optics Cronus G2 UHD 20-60x86 Spotting Scope is the perfect companion for long-range terrestrial observations featuring a smooth single focus wheel, finely geared to facilitate hitting the sharpest focus.
Athlon's Cronus G2 spotting scope comes with a powerful 20-60x zoom range that allows the user to observe wide areas on low power with the ability to zoom in and make very detailed views.
Its large 86mm objective is optimized for greater color definition, clarity, and light transmission to ensure views remain bright when observing distant objects.
From scouting game on a shadowed treeline to identifying birds in dimly wooded forests, the Cronus G2's enhanced contrast helps separate your subject from its background.
Utilizing UHD extra low dispersion glass lenses gives you an advantage with an image that has little or no chromatic fringe for the ultimate clearest and sharpest image.
Its unique XPL protective coating gives you extra protection on the exterior lenses to prevent the scope from enduring dirt, oil, and potential scratches.
Additionally, the state-of-the-art ESP (Enhance Spectral Prism) dielectric coating reflects 99% of the light through the prism assembly.
The Cronus G2 is constructed with a magnesium chassis to reduce weight while keeping the chassis rugged to withstand the scrapes and bumps of constant use.
Optics
Ideal for long-range terrestrial observation and identification
Powerful 20-60x zoom range allows the user to view wide areas on low power with the ability to zoom in and make detailed observations
Large 86mm objective is optimized for low-light conditions and to ensure views remain bright when viewing distant subjects at high magnification
Phase-corrected BAK4 prism design for better edge-to-edge sharpness and depth of view
111-foot field of view at 1000 yards on 20x, 60 feet on 60x
Use
Eyepiece set at 45° angle to scope body for easier and more comfortable viewing when sitting, standing, or lying prone and allows a lower tripod height for improved stability
Single-speed focusing mechanism is easy to see even in cold and wet conditions or while wearing gloves
Twist-up eye cup improves viewing comfort with or without eyewear
Comfortable relief at all magnifications reduces eye fatigue and improves comfort
Construction
Lightweight magnesium chassis for enhanced durability and comfort
Waterproof and argon-purged to deliver all-weather performance in any environmental condition
Textured armoring with improve grip in cold and wet conditions
Weight: 4.6 lb / 73.5 oz
Item Number

Magnification

Aperture

Field of View

Optics

Dimensions

Weight

Other Details

Warranty
Payment & Security
Payment methods
Your payment information is processed securely encrypted during transmission. We do not store credit card details nor have access to your credit card information.