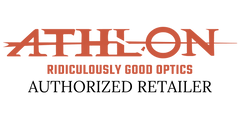 Athlon Optics Ares G2 UHD 15-45x65 Straight Angle Spotting Scope
$649.99 $812.49
Unavailable
Athlon Optics Ares G2 UHD 15-45x65 Straight Angle Spotting Scope is backordered and will ship as soon as it is back in stock.
Athlon Optics Ares G2 UHD 15-45x65 Straight Angle Spotting Scope
Features
Straight Angle Viewing
Powerful 15-45x Zoom Eyepiece
65mm Objective Lens
171' Field of View at 1000 yards on 15x
81' Field of View at 1000 yards on 45x
UHD Glass
Waterproof and Argon-purged
Phase-Corrected BAK4 Prism
ESP Dielectric Coating
XPL Protective Coating
The Athlon Optics Ares G2 UHD 15-45x65 Straight Spotting Scope was designed with advanced optical quality and ease of use in mind. Designed with bright, razor-sharp imagery and a rugged, weatherproof design, the Ares is ready for any condition.
The interchangeable eyepiece allows you to swap the standard variable power eyepiece with a fixed 22 power eyepiece (sold separately) with a MIL ranging reticle in it for your long range shooting/tactical application.
They have UHD Extra-Low Dispersion glass lenses for color resolution and contrast, our AFMC (advance fully multi-coatings), and feature BaK4 prisms with the new ESP Dielectric Coating that reflects 99% of the light through the prism assembly. They bring clarity and brightness within the reach of most enthusiasts.
The tough full metal chassis is fog proof and waterproof and filled with Argon gas to prevent internal fogging and better thermal stability. The lenses are then treated externally with our XPL protective coating to withstand dirt, oil, and grime of constant use.
Optics
Ideal for long-range terrestrial observation and identification
Powerful 15-45x zoom range allows the user to view wide areas on low power with the ability to zoom in and make detailed observations
65mm objective is optimized for low-light conditions and to ensure views remain bright when viewing distant subjects at high magnification
Phase-corrected BAK4 prism design for better edge-to-edge sharpness and depth of view
171-foot field of view at 1000 yards on 15x, 81 feet on 45x
Use
Single-speed focusing mechanism is easy to see even in cold and wet conditions or while wearing gloves
Twist-up eye cup improves viewing comfort with or without eyewear
Comfortable relief at all magnifications reduces eye fatigue and improves comfort
Construction
Lightweight aluminum alloy chassis for enhanced durability and comfort
Waterproof and argon-purged to deliver all-weather performance in any environmental condition
Textured armoring with improve grip in cold and wet conditions
Weight: 3 lb / 49.5 oz
Item Number

Magnification

Aperture

Field of View

Optics

Dimensions

Weight

Other Details

Warranty
Payment & Security
Payment methods
Your payment information is processed securely encrypted during transmission. We do not store credit card details nor have access to your credit card information.