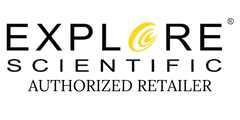 Explore Scientific 16" f/4.5 Truss Tube Dobsonian Telescope
Explore Scientific 16" f/4.5 Truss Tube Dobsonian Telescope is backordered and will ship as soon as it is back in stock.
Out of stock
Sign up to be the first to know when this product becomes available
---
Explore Scientific 16" f/4.5 Truss Tube Dobsonian Telescope
Features
16" / 406mm Aperture
1826mm Focal Length, f/4.5 Focal Ratio
10:1 2" Two-Speed Helical Focuser
Red Dot LED Finderscope
Floor-based Manual Alt-Azimuth Mount
Altitude Tension Clutch
Dual Radial Main-Mirror Fans
Tool-Free Breakdown and Assembly
The Explore Scientific 16" f/4.5 Truss Tube Dobsonian Telescope is ideal for deep sky observations and very detailed planetary views. It provides high performance with a low dollar-per-aperture cost.
Its f/4.5 focal ratio and 10:1 dual-speed helical focuser make this a perfect choice for imaging as well. The fast focal ratio helps devices capture images in less time than slower scopes, while the unique focusing mechanism employed in the helical design gives it the ability to achieve sharp focusing without backlash that rack-and-pinion focusers are generally unable to achieve.
This is a Generation II telescope. All updates have been performed on this telescope. No telescope type has changed the hobby quite as much as the Dobsonian. Before the popularization of the Dobsonian by John Dobson, the vast majority of amateur telescopes consisted of small telescopes with primitive mechanics - barely enough to see the polar caps of Mars or the rings of Saturn. Larger telescopes, such as the Schmidt-Cassegrain were reserved for the wealthy. The ingenious combination of simple yet effective mechanisms with the greatest possible opening gives the Dobsonian telescope a unique triumphant march around the world. Nowhere do you get as much light for your money like a good Dobson. Disassembly of the scope without tools ensures a trouble-free transport of this great scope even in small cars. The entire structure has been optimized for maximum stiffness with minimal weight. The combination of high altitude bearings with optimized aluminum structures allows fine adjustment flows at high magnifications.
The ideal workhorse for the deep sky observers. A 406mm mirror collects more than 2,400 times as much light as the naked eye. Details on planets and deep sky objects will be visible even for inexperienced observers. Bright star clusters are resolved to the core, and the sight of the terminator on the moon is an unforgettable experience.
The rocker box provides a steady observational platform with very low vibration. It features high-altitude bearings with aluminum structures that allow for fine adjustment flows at high magnification. The dual radial primary mirror fans quickly adjust the temperature to reduce mirror distortion.
The scope is ready for use with our optional coma corrector.
Browse the Explore Scientific Truss Tube Dobsonian series: 10" | 12" | 20"
Item Number

Magnification

Aperture

Focal Length

Focal Ratio

Optics

Barrel Size

Dimensions

Weight

Other Details

Warranty
Payment & Security
Payment methods
Your payment information is processed securely encrypted during transmission. We do not store credit card details nor have access to your credit card information.