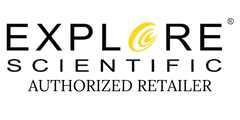 Explore Scientific 10" f/5 Truss Tube Dobsonian Telescope
Explore Scientific 10" f/5 Truss Tube Dobsonian Telescope is backordered and will ship as soon as it is back in stock.
Out of stock
Sign up to be the first to know when this product becomes available
---
Explore Scientific - Generation II - 10-inch Truss Tube Dobsonian Telescope
Features
The Explore Scientific 10" f/5 Truss Tube Dobsonian Telescope is ideal for deep sky observations and detailed planetary views. It provides high performance at a reasonable price.
Its f/5 focal ratio and 10:1 dual-speed helical focuser make this a perfect choice for imaging as well. The fast focal ratio helps devices capture images in less time than slower scopes, while the unique focusing mechanism employed in the helical design gives it the ability to achieve sharp focusing without backlash that rack-and-pinion focusers are generally unable to achieve.
This is a Generation II telescope. All updates have been performed on this telescope. No telescope type has changed the hobby quite as much as the Dobsonian Telescope. Before the popularization of John Dobson's altazimuth mount design with low center of gravity combined with a Newtonian optical assembly, the vast majority of amateur telescopes consisted of small telescopes with small mounts - which made them difficult to use for serious deep sky observations by beginners. Large commercial telescopes could certainly do the job but were relatively expensive. The ingenious combination of simple yet effective mechanisms with big-aperture Newtonian optics gives the Dobsonian Telescope worldwide popularity, and this telescope design typically offers the largest aperture per dollar of any telescope type. Disassembly of the scope without tools ensures a trouble-free transport of this great scope even in very small cars. The entire structure has been optimized for maximum stiffness with minimal weight. The combination of large altitude bearings with optimized metal structural design allows fine and smooth adjustment, even at higher magnifications.The ideal workhorse for the deep sky observers.
A 254mm aperture mirror collects more than 1,500 times as much light as the naked eye. Details on planets and deep sky objects will be visible even for inexperienced observers. Many star clusters are resolved to the core, spiral structure in distant galaxies is visible, and the complex matrix of bright and dark nebulae are an unforgettable experience.
Oversize altitude (16.5-inch) and azimuth (13-inch) bearings allow for smooth operation. Easy-to-adjust collimation mechanisms for primary and secondary mirrors require no additional tools and only one person is a unique feature of this design.
The rocker box provides a steady observational platform with very low vibration. It features high-altitude bearings with aluminum structures that allow for fine adjustment flows at high magnification. The dual radial primary mirror fans quickly adjust the temperature to reduce mirror distortion.

The scope is ready for use with our optional coma corrector.
Browse the Explore Scientific Truss Tube Dobsonian series: 12" | 16" | 20"
Item Number

Magnification

Aperture

Focal Length

Focal Ratio

Optics

Barrel Size

Dimensions

Weight

Other Details

Warranty
Payment & Security
Payment methods
Your payment information is processed securely encrypted during transmission. We do not store credit card details nor have access to your credit card information.