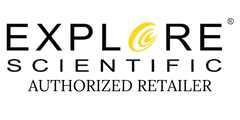 Explore Scientific 10" f/5 Hybrid Truss Tube Dobsonian Telescope
Explore Scientific 10" f/5 Hybrid Truss Tube Dobsonian Telescope is backordered and will ship as soon as it is back in stock.
Out of stock
Sign up to be the first to know when this product becomes available
---
Explore Scientific 10" f/5 Hybrid Truss Tube Dobsonian Telescope
Features
10" / 254 mm Aperture
1270 mm Focal Length
f/5 Focal Ratio
Floor-based Manual Alt-Az Mount
Comes with an excellent assortment of accessories:
2" Single-speed Focuser
Two eyepieces: a 25 mm Plossl; a 10 mm Plossl;
Moon Filter
Moon Map
Wil Tirion Multi-latitude Planisphere for the Northern Hemisphere
Red-dot LED Finderscope
Collimation Tool
This is a hybrid truss-tube Dobsonian because the secondary-mirror is held inside a tube (like a traditional Dobsonian telescope) rather than an open cage.
The Explore Scientific 10" f/5 Hybrid Truss Tube Dobsonian Telescope allows you to explore details of lunar and planetary surfaces, observe deep sky objects, and resolve bright star clusters. The fast focal ratio enables devices to capture images quickly.
Nowhere do you get as much light for your money like a good Dobsonian. Disassembly of the scope, which does not require tools, ensures a trouble-free transport of this great scope -- even in small cars. The entire structure has been optimized for maximum stiffness with minimal weight. The combination of high altitude bearings with optimized aluminum structures allows fine-adjustment flow at high magnifications.

The rocker mount features high-altitude bearings with aluminum structures that allow for fine adjustments at high magnifications.
This is an ideal workhorse for the deep-sky observers. A 254 mm mirror collects hundreds of times as much light as the naked eye. Details on planets and deep-sky objects will be visible even for inexperienced observers. Bright star clusters are resolved to the core, and the sight of the terminator on the moon is an unforgettable experience.
The significant differences between this telescope and the Explore Scientific Generation II model are:
* White aluminum-tube secondary rather than a cage assembly
* Single-speed focuser rather than a 2-speed focuser (upgrade requires a new focuser; not just a 10:1 reduction knob)
* No cooling fans
We recommend buying the accessory shroud, which will improve contrast at the eyepiece and offer dew protection for the primary mirror.
Item Number

Aperture

Focal Length

Focal Ratio

Optics

Barrel Size

Dimensions

Weight

Other Details

Warranty
Payment & Security
Payment methods
Your payment information is processed securely encrypted during transmission. We do not store credit card details nor have access to your credit card information.